HEALTHY MEALS at the Gathering Club Adult Day Health Care Center
Posted on June 26, 2016 by ECR Louisville in
Adult Day Care
,
Blog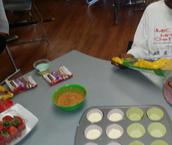 You can count on healthy, nutritious meals, snacks and beverages being served daily at the Gathering Club.
Just another great benefit of the Club! Meals are carefully selected to coincide with special diets that your "personal doctor" has recommended.
COMPLIMENTARY TOURS:
To schedule  a complimentary tour call:
(502) 365-2586
HOURS OF OPERATION:
Monday through Friday:
 9:00 a.m. – 5:00 p.m.
We accept Medicaid waiver
We accept V.A. waiver
We accept Michelle P waiver
About The Author:
http://www.gatheringclub.com/